2.22.Il.Destino.È.Già.Scritto.2017.iTA-ENG.Bluray.1080p.x264-CYBE...
Category

Movies

Type

HD

Language

English

Total size

8.1 GB

Uploaded By eXpOrTeRICV
Downloads

1231

Last checked

3 hours ago

Date uploaded

3 months ago

Seeders

53

Leechers

25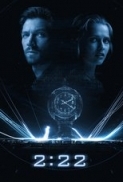 A man's life is derailed when an ominous pattern of events repeats itself in exactly the same manner every day, ending at precisely 2:22 p.m.
Infohash : 1E14CA74D1624E3848F6E9C363B3C0879FC6FBD7


[size=24pt]2:22 - Il Destino È Già Scritto [/size]




DATA USCITA: 29 giugno 2017
GENERE: Thriller, Horror
ANNO: 2017
REGIA: Paul Currie
ATTORI: Teresa Palmer, Michiel Huisman, Remy Hii, Sam Reid, Simone Kessell, John Waters, Kerry Armstrong, Richard Davies
PAESE: USA, Australia
DURATA: 99 Min
DISTRIBUZIONE: Notorious Pictures




In 2:22 - Il destino è già scritto, il controllore del traffico aereo Dylan Boyd (Michiel Huisman), si ritrova intrappolato in una catena di suoni ed eventi casuali, che si ripetono identici ogni giorno alla stessa ora, e terminano alle 2:22 in punto alla stazione ferroviaria di New York. La successione regolare, che si esaurisce nell'arco della giornata per ricominciare la mattina successiva, prende il via da un avvenimento significativo avvenuto sul luogo di lavoro: accecato per qualche istante da un improvviso lampo di luce, Dylan riesce per un soffio a scongiurare la collisione tra due aerei turistici. Tra i passeggeri scampati alla tragedia sfiorata, c'è anche Sarah (Teresa Palmer), una bellissima ragazza che lavora in una galleria d'arte, dalla quale Dylan si sente incredibilmente attratto. Proprio Sarah potrebbe essere la chiave per spezzare la nauseante ripetizione di eventi che scandisce la sua vita, ma non prima di aver indagato e colto i messaggi celati nello schema tracciato dal tempo.




[ Info sul file ]

Nome: 2.22.Il.Destino.È.Già.Scritto.2017.iTA-ENG.Bluray.1080p.x264-CYBER.mkv
data: Wed, 11 Oct 2017 19:28:14 +0200
Dimensione: 8,658,092,996 bytes (8257.000919 MiB)

[ Magic ]

Tipo file: data

[ Info generiche ]

Durata: 01:39:13 (5952.832 s)
Contenitore: matroska
Production date: Wed, 11 Oct 2017 19:26:49 +0200
Totale tracce: 7
Traccia n. 1: video (V_MPEG4/ISO/AVC) {eng}
Traccia n. 2: audio (A_DTS) {ita}
Traccia n. 3: audio (A_AC3) {ita}
Traccia n. 4: audio (A_DTS) {eng}
Traccia n. 5: subtitle (S_TEXT/UTF8) [FORCED] {ita}
Traccia n. 6: subtitle (S_TEXT/UTF8) [NON UDENTI] {ita}
Traccia n. 7: subtitle (S_TEXT/UTF8) [NON UDENTI] {eng}
Muxing library: libebml v1.3.5 + libmatroska v1.4.5
Writing application: mkvmerge v15.0.0 ('Duel with the Devil') 64-bit

[ Dati rilevanti ]

Risoluzione: 1920 x 804
Larghezza: multipla di 32
Altezza: multipla di 4
DRF medio: 16.224909
Deviazione standard: 5.222277
Media pesata dev. std.: 5.187234

[ x264 log ]

frame I: 2227 ( 1.565 %)
frame B: 96436 ( 67.783 %) ##############
frame P: 43608 ( 30.651 %) ######
frame I avg QP: 14.1
frame B avg QP: 18.02
frame P avg QP: 16.37
Avg QP: 17.452892

[ Traccia video ]

Codec ID: V_MPEG4/ISO/AVC
Risoluzione: 1920 x 804
Frame aspect ratio: 160:67 = 2.38806
Pixel aspect ratio: 1:1 = 1
Display aspect ratio: 160:67 = 2.38806
Framerate: 24 fps
Dimensione stream: 5,938,077,932 bytes (5662.992413 MiB)
Durata: 01:38:48 (5927.958238 s)
Bitrate (bs): 8013.656903 kbps
Qf: 0.216303

[ Traccia audio nr. 1 ]

Codec ID: A_DTS
Freq. campionamento: 48000 Hz
Canali: 6
Dimensione campioni: 24-bit
Dimensione stream: 1,122,848,912 bytes (1070.832169 MiB)
Tipo di bitstream (bs): DTS
Frames (bs): 558,076
Durata: 01:39:13 (5952.810667 s)
Chunk-aligned (bs): Sì
Bitrate (bs): 1536 kbps CBR
Freq. campionamento (bs): 48000 Hz
Modo (bs): C + L + R+ SL+SR

[ Traccia audio nr. 2 ]

Codec ID: A_AC3
Freq. campionamento: 48000 Hz
Canali: 6
Dimensione stream: 476,226,560 bytes (454.165039 MiB)
Tipo di bitstream (bs): AC3
Frames (bs): 186,026
Durata: 01:39:13 (5952.832 s)
Chunk-aligned (bs): Sì
Bitrate (bs): 640 kbps CBR
Freq. campionamento (bs): 48000 Hz
Modo (bs): 3 front, 2 rear, 1 LFE

[ Traccia audio nr. 3 ]

Codec ID: A_DTS
Freq. campionamento: 48000 Hz
Canali: 6
Dimensione campioni: 16-bit
Dimensione stream: 1,118,158,940 bytes (1066.359463 MiB)
Tipo di bitstream (bs): DTS
Frames (bs): 555,745
Durata: 01:38:48 (5927.946667 s)
Chunk-aligned (bs): Sì
Bitrate (bs): 1536 kbps CBR
Freq. campionamento (bs): 48000 Hz
Modo (bs): C + L + R+ SL+SR

[ Bitstream video ]

Tipo di bitstream: MPEG-4 Part 10
User data: x264 | core 152 r2851 ba24899 | H.264/MPEG-4 AVC codec | Copyleft
User data: 2003-2017 | * | C | Y | B | E | R | * | R | O | C | K | S | * | |
User data: options: | cabac=1 | ref=5 | deblock=1:-2:-2 | analyse=0x3:0x133
User data: me=hex | subme=7 | psy=1 | psy_rd=1.00:0.00 | mixed_ref=1
User data: me_range=16 | chroma_me=1 | trellis=1 | 8x8dct=1 | cqm=0
User data: deadzone=21,11 | fast_pskip=1 | chroma_qp_offset=-2 | threads=12
User data: lookahead_threads=2 | sliced_threads=0 | nr=0 | decimate=1
User data: interlaced=0 | bluray_compat=0 | constrained_intra=0 | bframes=3
User data: b_pyramid=2 | b_adapt=1 | b_bias=0 | direct=1 | weightb=1
User data: open_gop=0 | weightp=2 | keyint=240 | keyint_min=23 | scenecut=40
User data: intra_refresh=0 | rc_lookahead=50 | rc=2pass | mbtree=1
User data: bitrate=8029 | ratetol=1.0 | qcomp=0.60 | qpmin=0 | qpmax=69
User data: qpstep=4 | cplxblur=20.0 | qblur=0.5 | vbv_maxrate=50000
User data: vbv_bufsize=62500 | nal_hrd=none | filler=0 | ip_ratio=1.40
User data: aq=1:1.00
SPS id: 0
Profile: [email protected]
Num ref frames: 5
Aspect ratio: Square pixels
Chroma format: YUV 4:2:0
PPS id: 0 (SPS: 0)
Tipo di codifica entropica: CABAC
Weighted prediction: P slices - explicit weighted prediction
Weighted bipred idc: B slices - implicit weighted prediction
8x8dct: Sì
Totale frames: 142,271
Drop/delay frames: 0
Frames corrotti: 0

P-slices: 43608 ( 30.651 %) ######
B-slices: 96436 ( 67.783 %) ##############
I-slices: 2227 ( 1.565 %)
SP-slices: 0 ( 0.000 %)
SI-slices: 0 ( 0.000 %)

[ Analisi DRF ]

DRF nedio: 16.224909
deviazione standard: 5.222277
max DRF: 29

DRF=1: 1642 ( 1.154 %)
DRF=2: 1244 ( 0.874 %)
DRF=3: 1519 ( 1.068 %)
DRF=4: 1282 ( 0.901 %)
DRF=5: 1255 ( 0.882 %)
DRF=6: 1328 ( 0.933 %)
DRF=7: 1514 ( 1.064 %)
DRF=8: 714 ( 0.502 %)
DRF=9: 1084 ( 0.762 %)
DRF=10: 2014 ( 1.416 %)
DRF=11: 3652 ( 2.567 %) #
DRF=12: 5152 ( 3.621 %) #
DRF=13: 7578 ( 5.326 %) #
DRF=14: 10134 ( 7.123 %) #
DRF=15: 12532 ( 8.809 %) ##
DRF=16: 14313 ( 10.060 %) ##
DRF=17: 15465 ( 10.870 %) ##
DRF=18: 13772 ( 9.680 %) ##
DRF=19: 10326 ( 7.258 %) #
DRF=20: 8293 ( 5.829 %) #
DRF=21: 7131 ( 5.012 %) #
DRF=22: 5520 ( 3.880 %) #
DRF=23: 4639 ( 3.261 %) #
DRF=24: 3703 ( 2.603 %) #
DRF=25: 2392 ( 1.681 %)
DRF=26: 1817 ( 1.277 %)
DRF=27: 762 ( 0.536 %)
DRF=28: 220 ( 0.155 %)
DRF=29: 45 ( 0.032 %)
DRF>29: 0 ( 0.000 %)

P-slices DRF medio: 15.605715
P-slices deviazione std.: 4.876753
P-slices max DRF: 29

B-slices DRF medio: 16.562414
B-slices deviazione std.: 5.356261
B-slices max DRF: 29

I-slices DRF medio: 13.734621
I-slices deviazione std.: 3.947577
I-slices max DRF: 25

[ Conformità al profilo ]

Profilo selezionato: MTK PAL 6000
Risoluzione: 1920 x 804 > 720 x 576
Framerate: 24 <> 25
Buffer underflow: 00:00:10 (frame 245)
Buffer underflow: 00:00:11 (frame 267)
Buffer underflow: 00:00:12 (frame 292)
Buffer underflow: 00:00:13 (frame 303)
Buffer underflow: 00:00:28 (frame 661)
Buffer underflow: 00:00:28 (frame 673)
Buffer underflow: 00:00:29 (frame 685)
Buffer underflow: 00:00:29 (frame 696)
Buffer underflow: 00:00:29 (frame 706)
Buffer underflow: 00:00:30 (frame 717)
Buffer underflow: 00:00:30 (frame 728)
Buffer underflow: 00:00:31 (frame 739)
Buffer underflow: 00:00:31 (frame 752)
Buffer underflow: 00:00:32 (frame 765)
Buffer underflow: 00:00:32 (frame 778)
Buffer underflow: 00:00:33 (frame 792)
Buffer underflow: 00:00:34 (frame 805)
Buffer underflow: 00:00:34 (frame 819)
Buffer underflow: 00:01:09 (frame 1647)
Buffer underflow: 00:01:10 (frame 1683)
Errore: Troppe violazioni

[ File allegato ]

Nome file: 2.22 2017 REMUX 1080p Bluray LEGi0N.rar
MIME type: application/x-rar
Dimensione: 31,037 bytes
UID: 16628791961018731421

[ Edition entry ]

UID: 16636452129182732934
Nascosto: No
Selezionato di default: No
Playlist: No
Capitoli:
00:00:00,000-00:09:10,000: 00:00:00.000 {eng}
00:09:10,000-00:15:56,000: 00:09:10.000 {eng}
00:15:56,000-00:21:26,000: 00:15:56.000 {eng}
00:21:26,000-00:30:10,000: 00:21:26.000 {eng}
00:30:10,000-00:40:31,000: 00:30:10.000 {eng}
00:40:31,000-00:50:56,000: 00:40:31.000 {eng}
00:50:56,000-00:58:34,000: 00:50:56.000 {eng}
00:58:34,000-01:05:56,000: 00:58:34.000 {eng}
01:05:56,000-01:14:57,000: 01:05:56.000 {eng}
01:14:57,000-01:22:14,000: 01:14:57.000 {eng}
01:22:14,000-01:32:55,000: 01:22:14.000 {eng}
01:32:55,000-01:39:12,832: 01:32:55.000 {eng}




ORARIO: SEMPRE ATTIVO
BANDA: 300KB


Files:
2.22.Il.Destino.È.Già.Scritto.2017.iTA-ENG.Bluray.1080p.x264-CYBER.mkv (8.1 GB)
Code:
udp://tracker.coppersurfer.tk:6969/announce

udp://tracker.tntvillage.scambioetico.org:2710/announce

udp://tracker.opentrackr.org:1337/announce

udp://tracker.leechers-paradise.org:6969/announce

udp://tracker.zer0day.to:1337/announce

udp://9.rarbg.com:2740/announce

udp://tracker.internetwarriors.net:1337/announce

udp://ipv4.tracker.harry.lu:80/announce

udp://tracker.vanitycore.co:6969/announce

udp://bt.xxx-tracker.com:2710/announce

udp://tracker.kamigami.org:2710/announce

udp://tracker.grepler.com:6969/announce

udp://tracker.filetracker.pl:8089/announce

udp://tracker.tiny-vps.com:6969/announce

udp://zephir.monocul.us:6969/announce

udp://tracker.torrent.eu.org:451/announce

udp://tracker.files.fm:6969/announce

udp://retracker.lanta-net.ru:2710/announce

udp://open.stealth.si:80/announce

udp://inferno.demonoid.ooo:3389/announce

udp://z.crazyhd.com:2710/announce

udp://tracker.christianbro.pw:6969/announce

udp://tracker.halfchub.club:6969/announce

udp://retracker.nts.su:2710/announce

udp://tracker.tvunderground.org.ru:3218/announce

udp://tracker.cyberia.is:6969/announce

udp://thetracker.org:80/announce

udp://tracker.cypherpunks.ru:6969/announce

udp://wambo.club:1337/announce

udp://tracker.acg.gg:2710/announce

udp://tracker.swateam.org.uk:2710/announce

udp://tracker.doko.moe:6969/announce

udp://tracker.dler.org:6969/announce

udp://tracker.pirateparty.gr:6969/announce